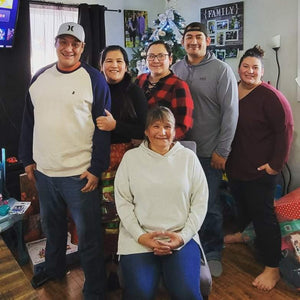 D&W SPOTLIGHT: JULIA OUELLETTE - REPEAT AFTER ME.
Language, it is an essential building block to culture, it is the way we communicate with one another, build relationships, and create a sense of community. It is said that there are over 6000 spoken languages around the world today. Several of them have few speakers left and will eventually be but a line in human history. One lady making a difference in her community by keeping her language alive is the subject of our next D&W Spotlight, Julia Ouellette.
 "The Cree language has a spirit. It is part of our identity." – Julia Ouellette
 In our second Spotlight Feature we are honoured to introduce Julia Ouellette. Ouellette is a proud member of the Makwa Sahgaiehcan First Nation located in Treaty Six territory. Currently, she is a language teacher at Chief Napew Memorial School on Big Island Lake First Nation. You may know her from "Repeat after me" on TikTok. Ouellette has embraced technology and is using it as a tool to broaden her reach. Aspiring speakers follow her on TikTok where she currently has 13.6k followers. Ouellette's impact on the language is huge, while you can find her teaching on social media, she also continues to teach the Cree language in the classroom.
 Julia grew up in a Cree speaking home, from an early age she was taught the language. She graciously gives credit to her parents and grandparents for the teachings they gave her. In addition to practical learning Julia studied Plains Cree language at Blue Quills University (St. Paul, Alberta) and the University of Saskatchewan. Ouellette is proud of the Cree Language Certificate that she earned.
 Ouellette has vast experience in teaching, she has taught at schools in her home community of Makwa Sahgaiehcan First Nation and at Flying Dust First Nation. Julia finds inspiration and the drive to keep on teaching from her children and students, she refers to them as her heroes. The encouragement she receives from Elders to keep passing on the language is especially important to her as well.
 Julia is a widow, a mother to five children and a kohkom to thirteen. She enjoys spending spare time with family and friends, travelling, and watching shows on TLC & HGTV. It is her family that encouraged her to expand her teachings into social media. Ouellette is happily surprised that her videos and pages receive the attention that they do. She finds her teaching material through daily living, people's suggestions, and actions. In addition to being the talent, Julia handles production as she records the "Repeat After Me" segments on her phone. Julia usually records on her own but on occasion she gets help from the kids.
 Julia believes that it is important to teach orally first as we were speakers before we became writers. She urges parents and grandparents to teach the young people. On occasion when she needs assistance she leans on other fluent speakers and elders. Julia believes that anybody can learn by watching videos online or going to their elders. There are now plenty of resources available online for aspiring speakers. Julia is grateful to be able to pass down the language to anyone who is willing to learn. Julia encourages all language teachers to use technology to broaden their reach.
We are fortunate to have people like Julia, because of teachers like her our languages will continue to thrive and not be another casualty to history. Show Julia your support and follow her on social media, her videos can be found using the following links.
TikTok @juliaouellette2
FaceBook https://www.facebook.com/groups/18414147673/posts/10159685559557674/
FaceBook https://www.facebook.com/powwowtimes
YouTube https://youtu.be/jkwIB7olzmA
---